Around 60% of men say choosing the right wedding ring for their partner is the hardest part of getting married, taking up to 3 months and visiting 7 different jewelry shops to find the perfect engagement or wedding rings.
Look no further as you will find it here at Gems Pavilion
One of the conclusions from the above research shows that couples take a lot of time and effort in choosing their wedding ring or engagement ring. But most couples don't even know the principles of choosing the perfect ring for their wedding day. Wouldn't it be good to have an ultimate guide to help you easily find the perfect wedding ring or engagement ring for your unique needs?
Today, as a leading professional jeweller in Thailand, we are ready to provide you with information that will help you alleviate all your doubts and concerns. We can help you choose the perfect ring for you on your big day, especially if you plan on having a Thai wedding ceremony.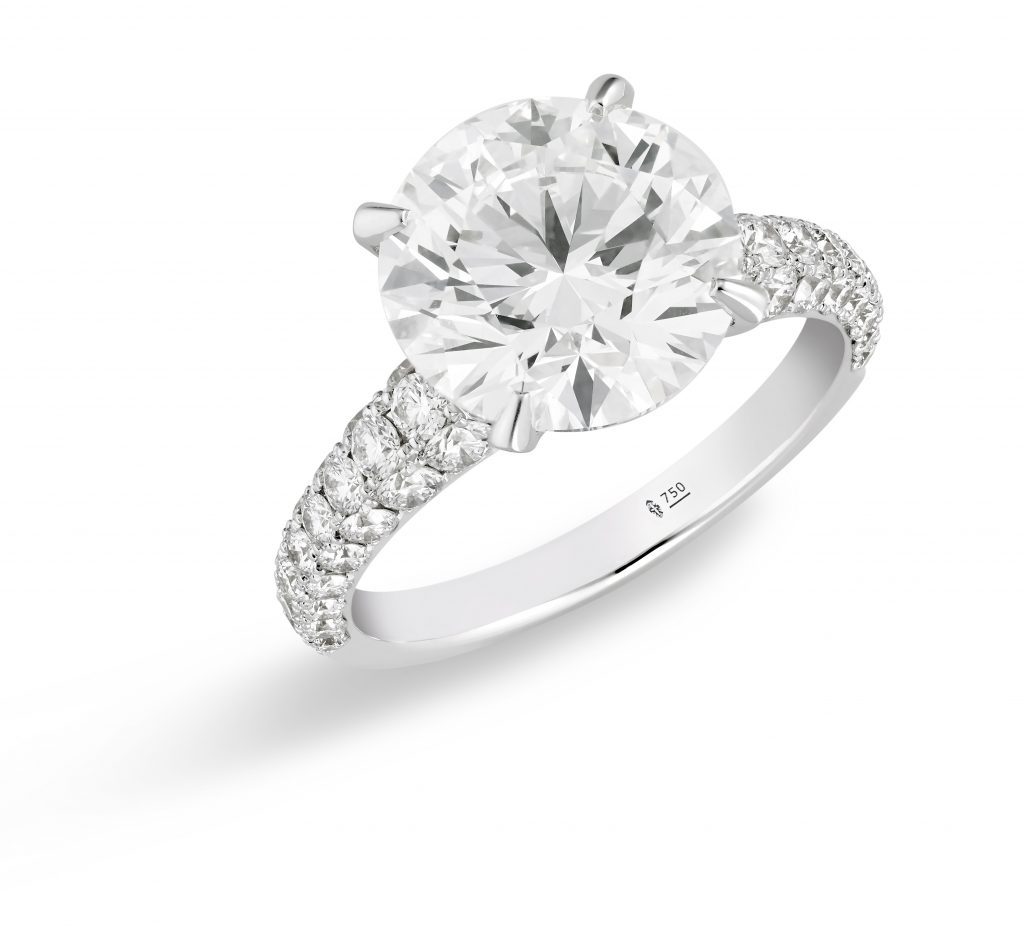 What are the differences between an 'Engagement Ring' and a 'Wedding Ring' ?
There are many misconceptions about the differences between an engagement ring and a wedding ring. Depending on where you're from, you may treat these rings differently, or use them interchangeably.
In this section, we'll take you through the interesting observations according to the customs of each culture:
Engagement rings
In Thai culture, the engagement ring is the ring used during the engagement ceremony. The engagement ring is normally a solitaire diamond ring or a ring that has an outstanding center stone.
In Western culture, the engagement ring is the proposal ring.
Wedding rings
In Thai wedding ceremonies, some couples use the engagement ring as the wedding ring. Whilst other couples have both a wedding ring and an engagement ring, one for the special day and a second ring for travelling.
In Western culture, it is the ring used during the wedding ceremony rather than the one during the proposal. The ring itself is simple in style, and is often worn with the engagement ring.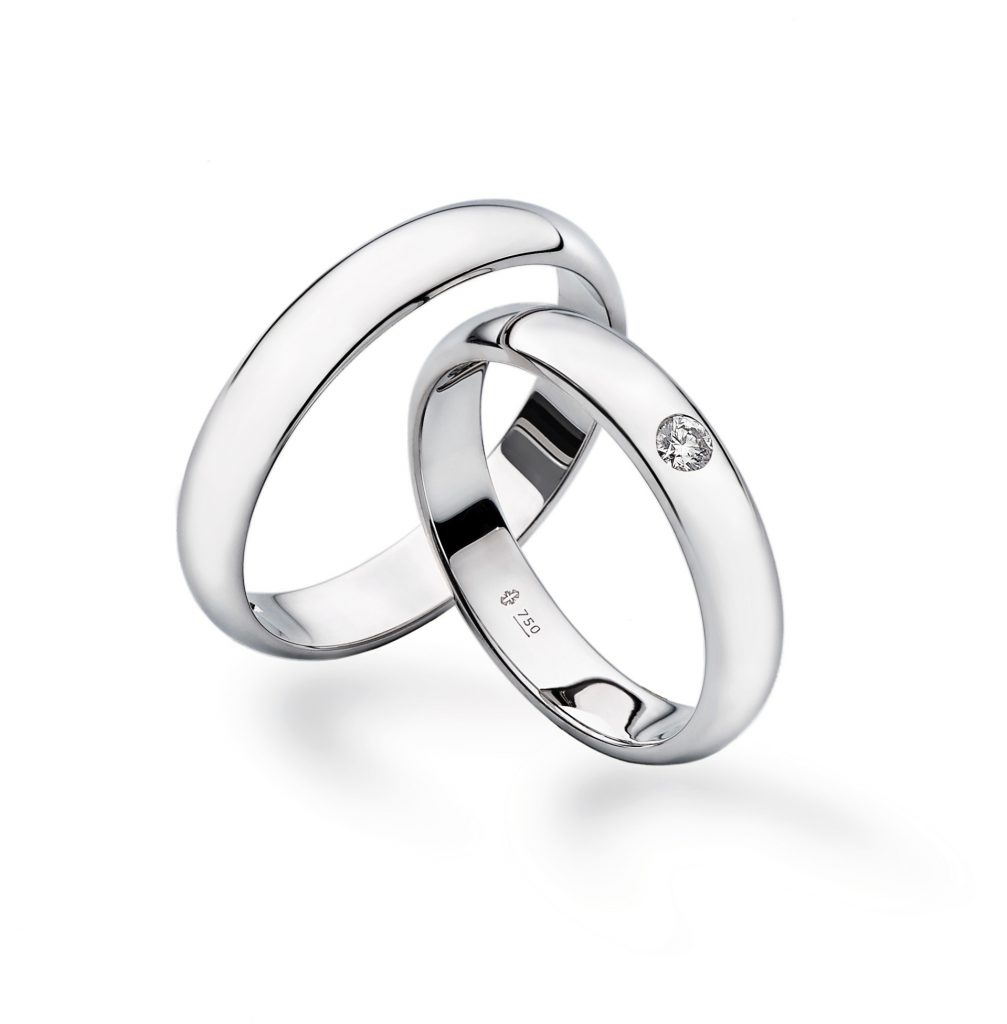 How to choose the right engagement ring & wedding ring for your wedding day
Presently, there is a high variety of diamond rings in the form of engagement and wedding rings. However, some people may choose other gems such as rubies and blue sapphires for their special day.
In this section, we will provide you with a guide on wedding rings so you will know what you should look for to select the best wedding ring.
Wedding Ring Elements
A wedding ring consists of two main components depending on the ring: the setting and the diamond. These two components both need to be considered while taking the other into account.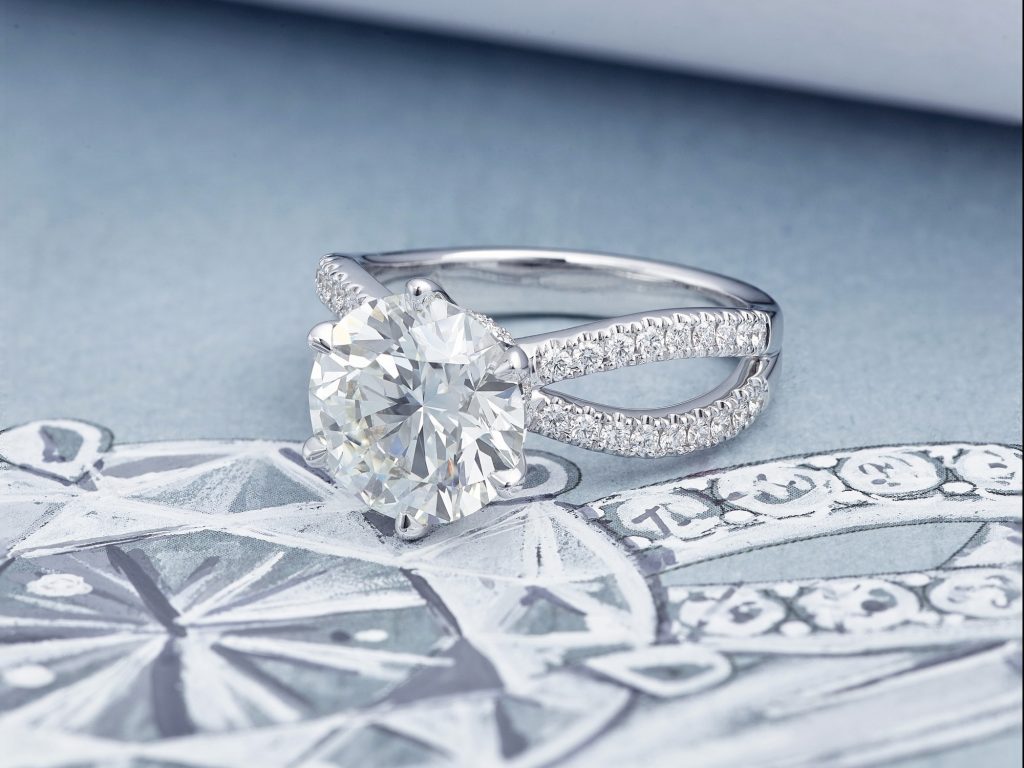 Diamond
Diamonds are the strongest and most durable material in the world, which is why they are popularly used as engagement rings and wedding rings according to the beliefs from the past up until today. Diamond is forever and diamond is a girl's best friend.
The centre stone is the largest diamond on the ring, often located in the ring head.
Melee diamonds are smaller diamonds that can be found either as side stones or in a pavé setting.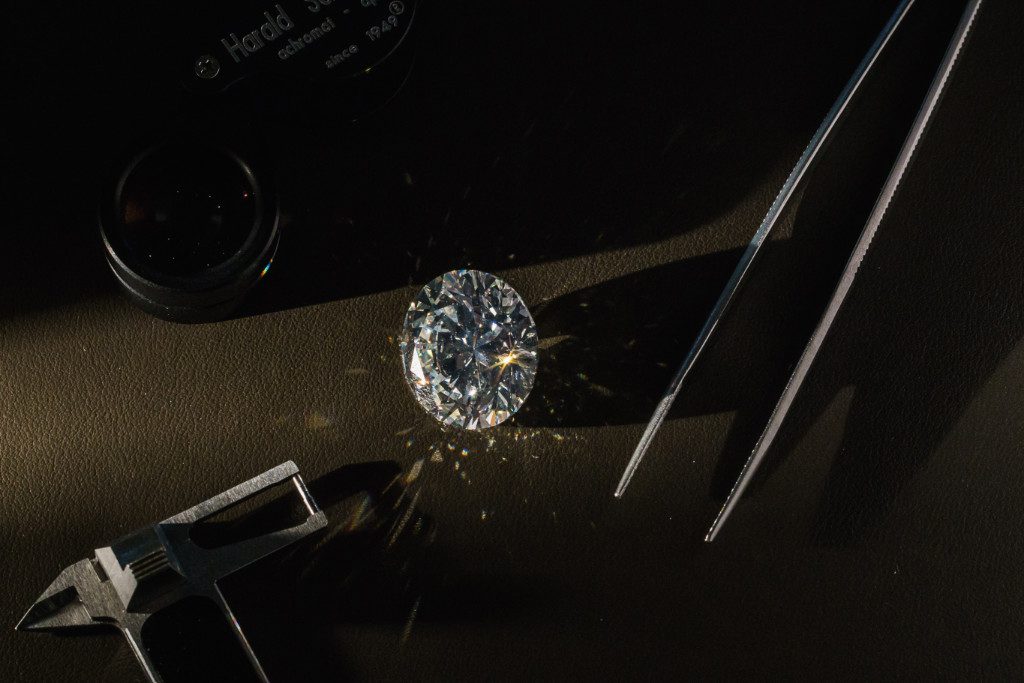 The 4Cs of diamond selection
You can use the 4Cs of diamond selection method that is globally recognized to select a diamond. This method takes into account key factors such as Carat, Colour, Cut and Clarity to help you find the best diamond for your wedding ring.
Gems Pavilion can help you mitigate all confusion when it comes to the 4Cs, which is why we'll keep it simple and easy.
Carat – Choose the weight of the diamond first. This is the easiest aspect to notice in a diamond ring.
Colour – The whiteness of the diamond. This is the second factor that people tend to notice easily, which is how yellow or white a diamond is.
Cut – This is whether the diamond has a quality cut or not. Most people will be able to tell when diamonds of different cuts are placed besides one another. If the diamond cut has the ideal proportions, the stone will bend and reflect the light in such a way that the diamond's fire and brilliance will be maximized.
Clarity – How clean the diamond is from both inclusions and blemishes. Many inclusions and blemishes are too tiny to be seen by the naked eyes. That's why Gems Pavilion has ranked it in the last one. We normally suggest customers to consider this factor according to their satisfaction.
Popular engagement rings and diamond shapes
After selecting a diamond with the 4Cs you desire, you're now ready to select the right combination of diamond shape and ring setting for you and your fiancé.
Here are the top 3 most popular diamond shapes today: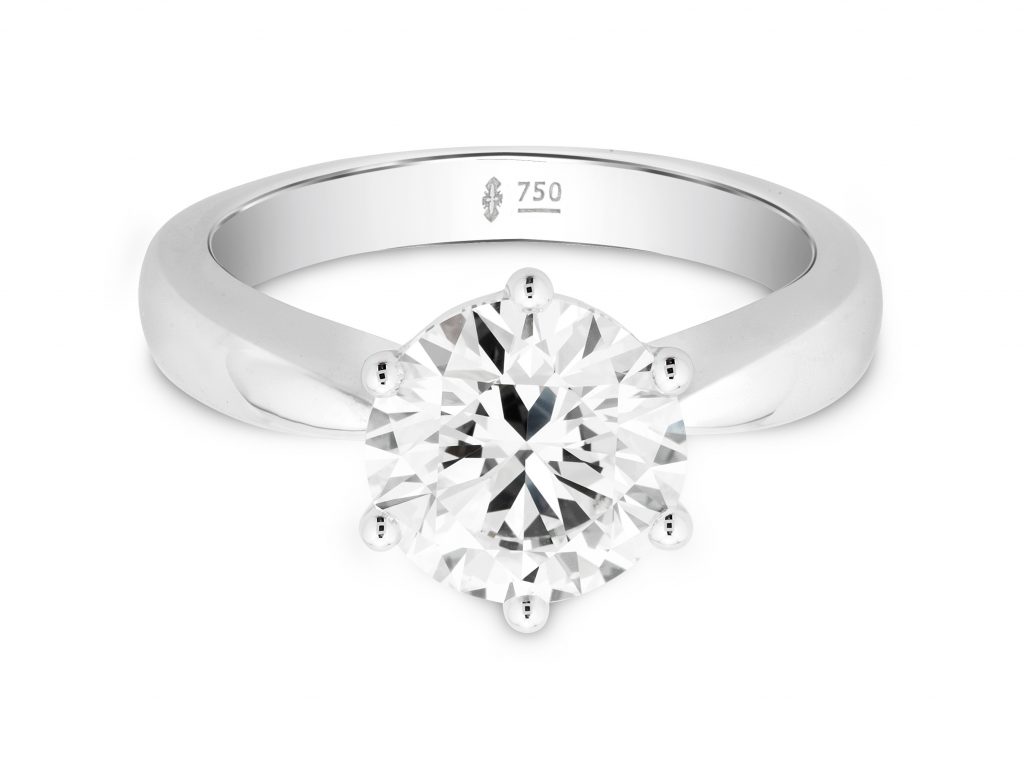 1) Round Brilliant Cut Diamond
More than 95% of engagement rings in the market are round brilliant cuts, which shine brightly, conveying the meaning of love and harmony. This is why it is the most popular diamond cut for wedding couples today.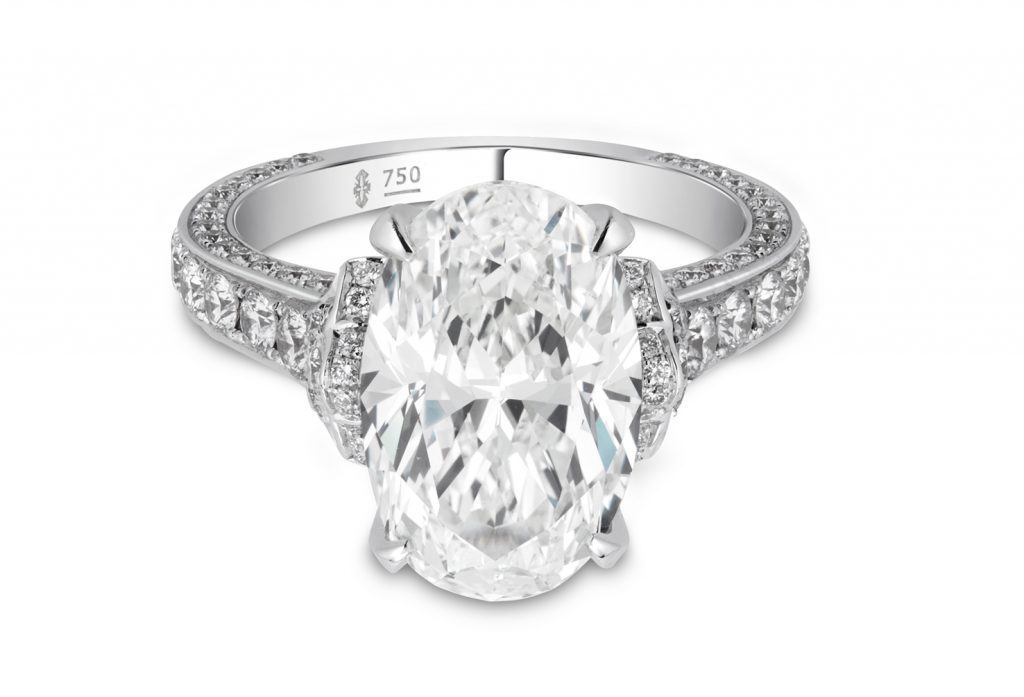 2) Oval Shaped Diamond
The oval shape of a diamond makes it appear larger than round and heart shaped diamonds, making it suitable for those who want a sophisticated and glamorous look.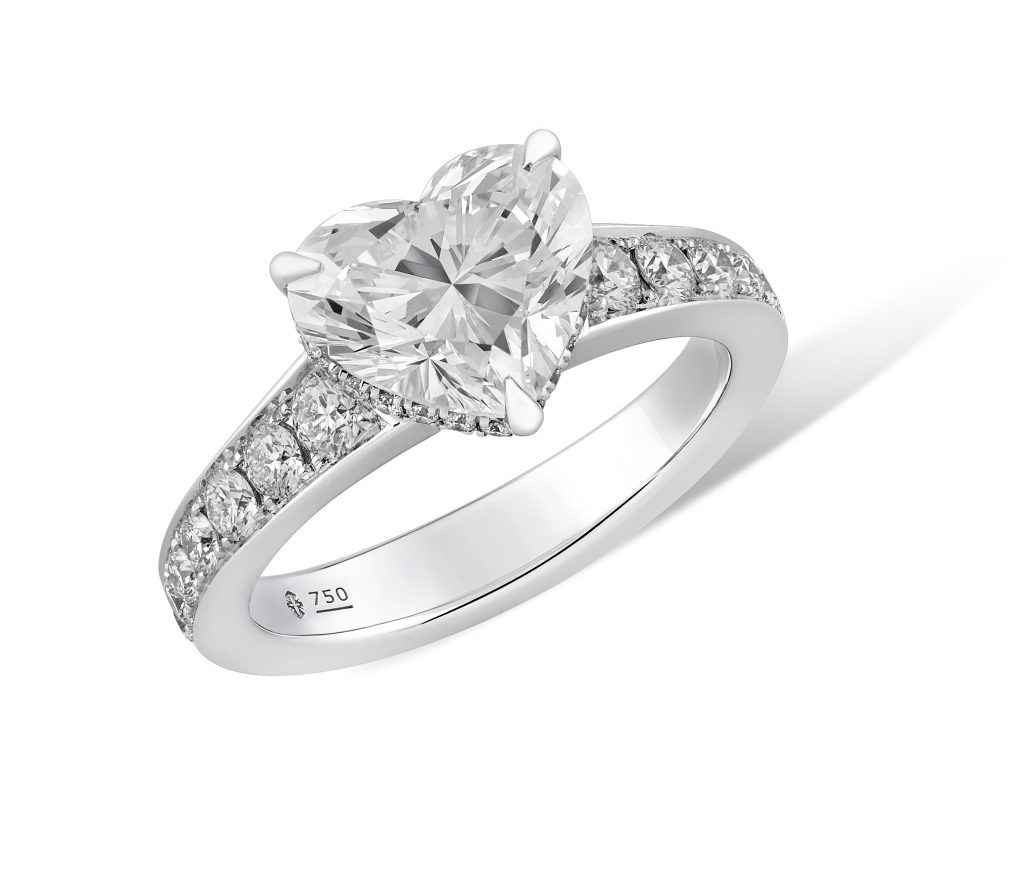 3) Heart Shaped Diamond
Its heart shape also symbolizes the love you share with your partner, making it the third most popular diamond shape. The heart shaped diamond is able to reflect light in a distinct, beautiful way.
Furthermore, engagement rings by Gems Pavilion will have a specially designed setting that is inspired by our icon, making Gems Pavilion engagement rings unique from other brands. This uniqueness is one of the most important things that we offer to all our distinguished customers.
Engagement & Wedding Ring setting
The second element to consider when choosing your important ring is the ring's setting. The setting of the ring should reflect the taste of the wearer and also the price of the ring as well. Here are some of the most popular engagement & wedding ring setting materials today:
Usually, gold rings utilize 18k gold and are 75% gold mixed with an alloy to form a glittering gold ring that gives a classic style aesthetic which has maintained its popularity for a long time. The reason why 99.99% gold is not used for jewelry is because in many cases it is too soft and can cause diamonds to fall out of place.
Using a gold ring with D, E, F, G diamonds is not recommended, since the diamond will look yellowish.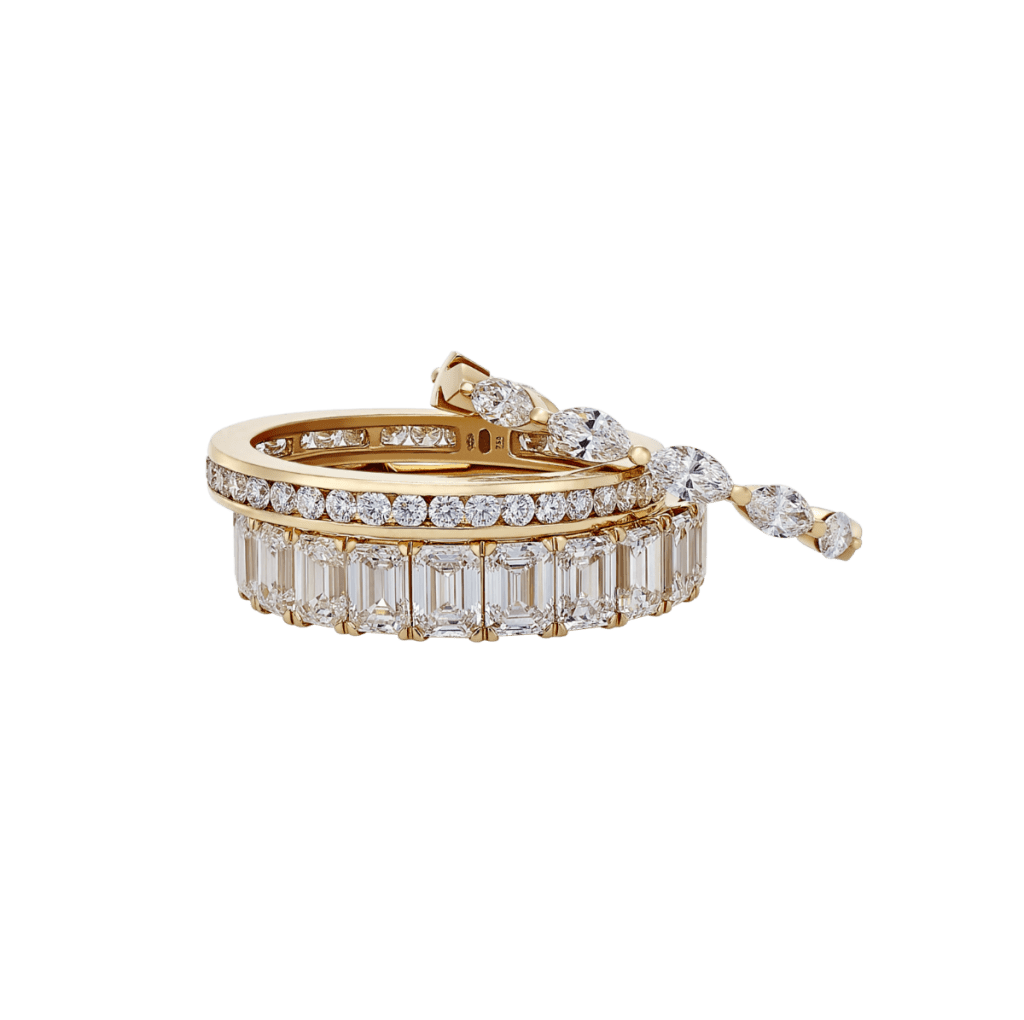 The white gold is characterized by its durability and shine, similar to platinum, but it is cheaper and it also happens to be the most popular ring. White gold is produced by combining 18K gold containing 75% gold with an alloy to increase its whiteness, with white plating to look more beautiful.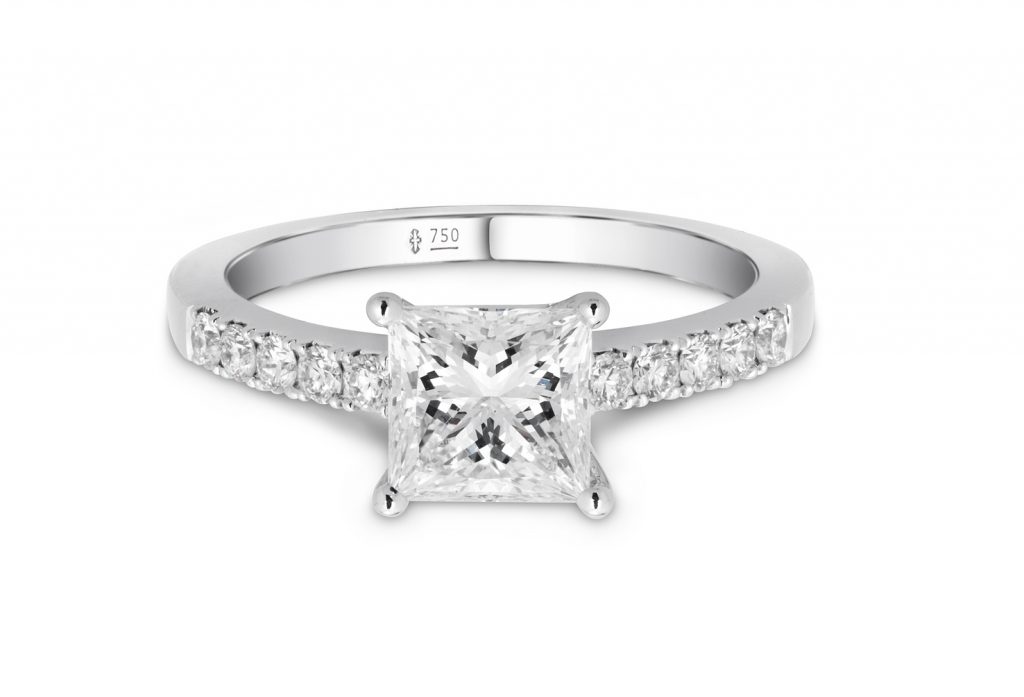 Pink gold is made from 18k gold mixed with a copper-coloured alloy. Our Gems Pavilion pink gold colour is a coral pink and has a unique look. Our pink gold is selected from the choices of 17 different shades of pink gold to ensure a special touch to all of our jewelry pieces at Gems Pavilion.
As the most durable metal used, platinum does not cause irritation for those allergic to gold. Due to platinum's rarity, the price for rings of this material is quite expensive. At Gems Pavilion, we choose to use only PT950 which means we use 950 parts of platinum from 1,000.
The reason why platinum is so expensive: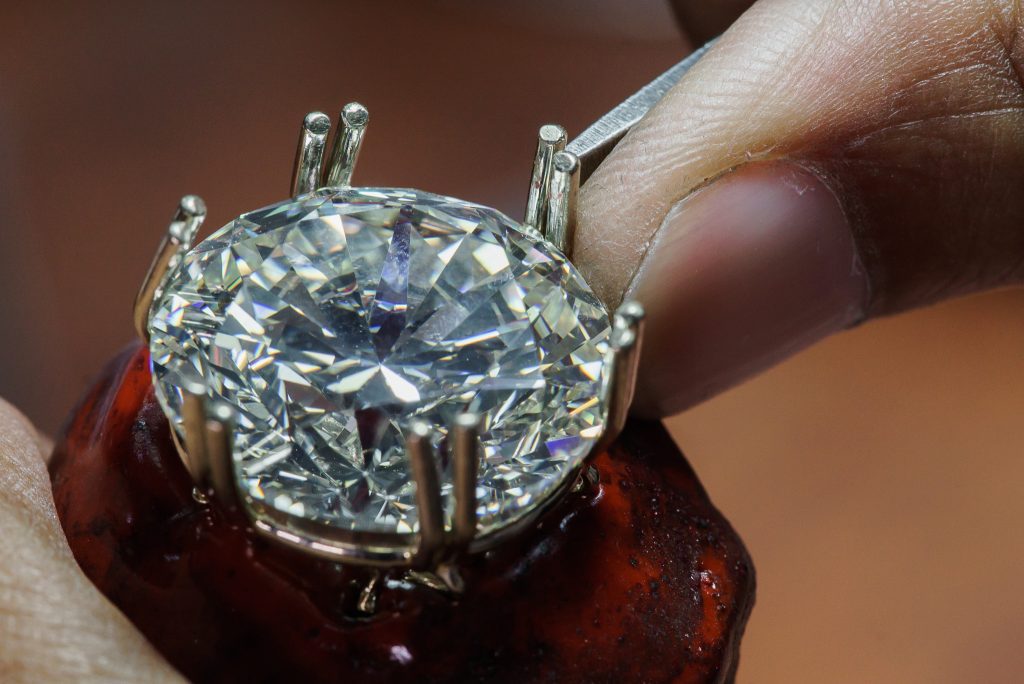 Approximately 30% more weight despite being the same size and design as other rings
Platinum has a much higher melting point than gold, resulting in a much longer working time and makes production costs higher than other types of gold as well
Platinum is harder than other types of gold, so making jewelry is more difficult.
Our experts at Gems Pavilion use gold-testing machines to check the percentage of gold in each ring to ensure a standard of 18k gold within our engagement and wedding rings. We make sure that in the casting process, there is always upwards of 75% gold within the ring.
Furthermore, from casting through to the stone setting process, we consistently test the gold level with our rings with gold-testing machines, to guarantee that your engagement and wedding rings have the right amount of gold percentage.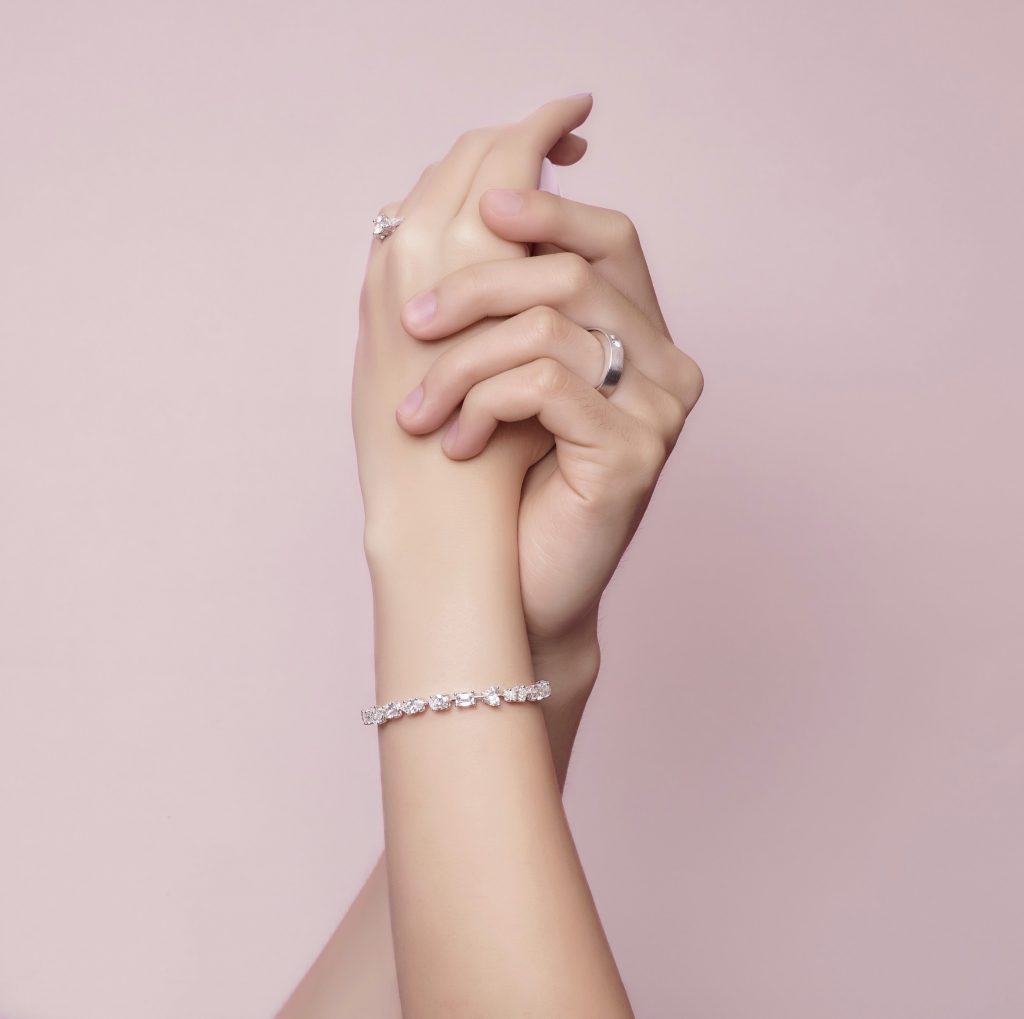 Tips for choosing the right ring setting
If you are someone who regularly changes your ring design, we recommend that you opt for a yellow gold or white gold ring setting. This will help reduce the cost of changing the ring design when compared to a platinum ring setting.
Wedding ring designs
After picking the ring setting material and the diamond, you can pick the style they come in. Some of the most popular designs you can find include: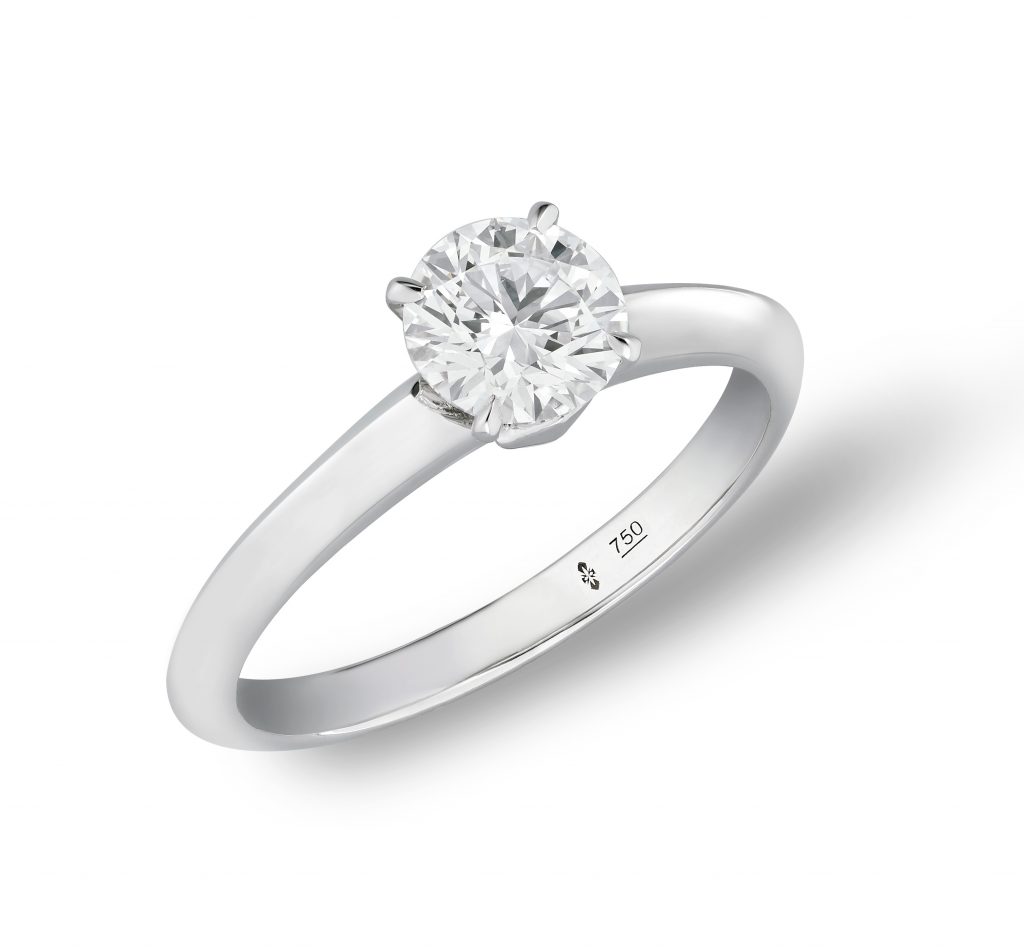 A ring with a single diamond as the centre stone to place emphasis on that one diamond with side stones or melee diamonds. The solitaire design represents the sole dedication of the bride and groom to one another, this design remains the number one most popular pattern.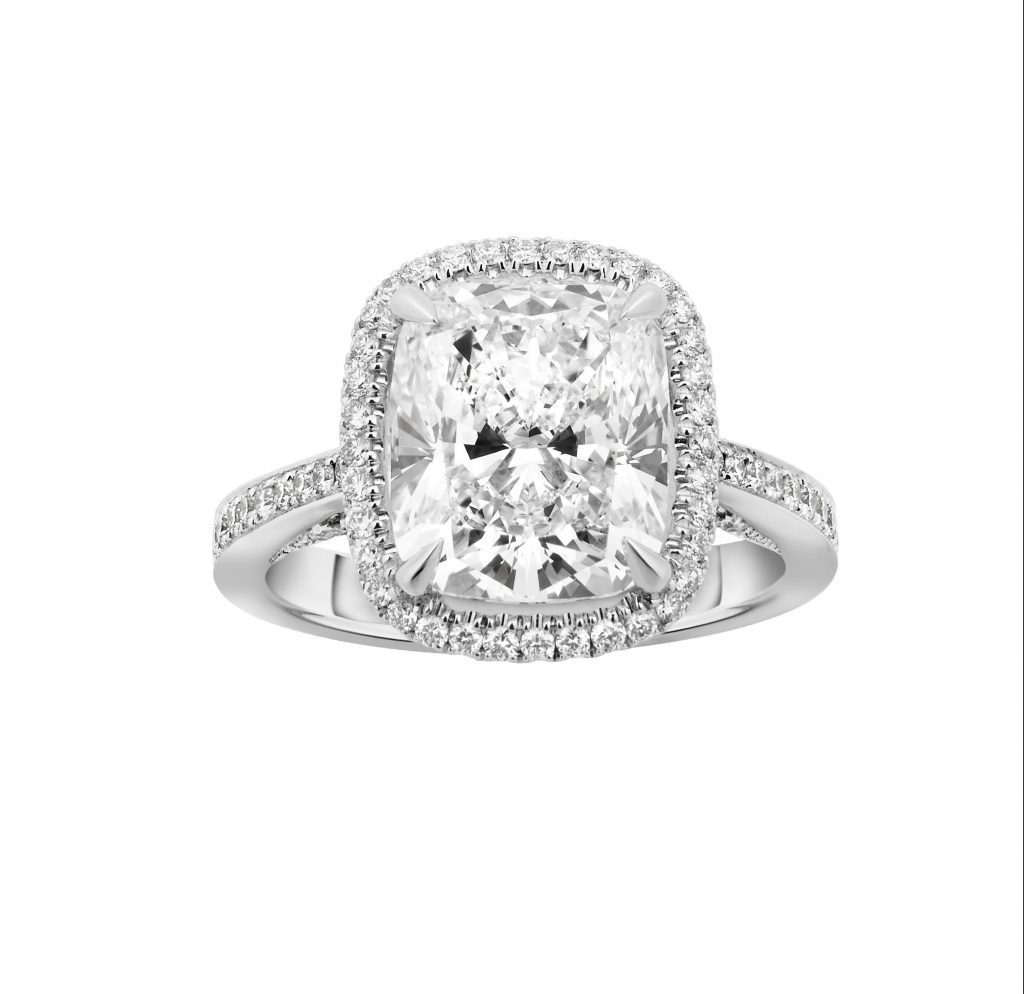 A ring with a centre stone encircled by a pavé band to emphasise and make the centre diamond look bigger and more prominent.
A ring with the centre stone encircled and secured by the band itself rather than extended out on prongs like solitaire rings. This provides additional protection for the diamond and can withstand day to day usage much better.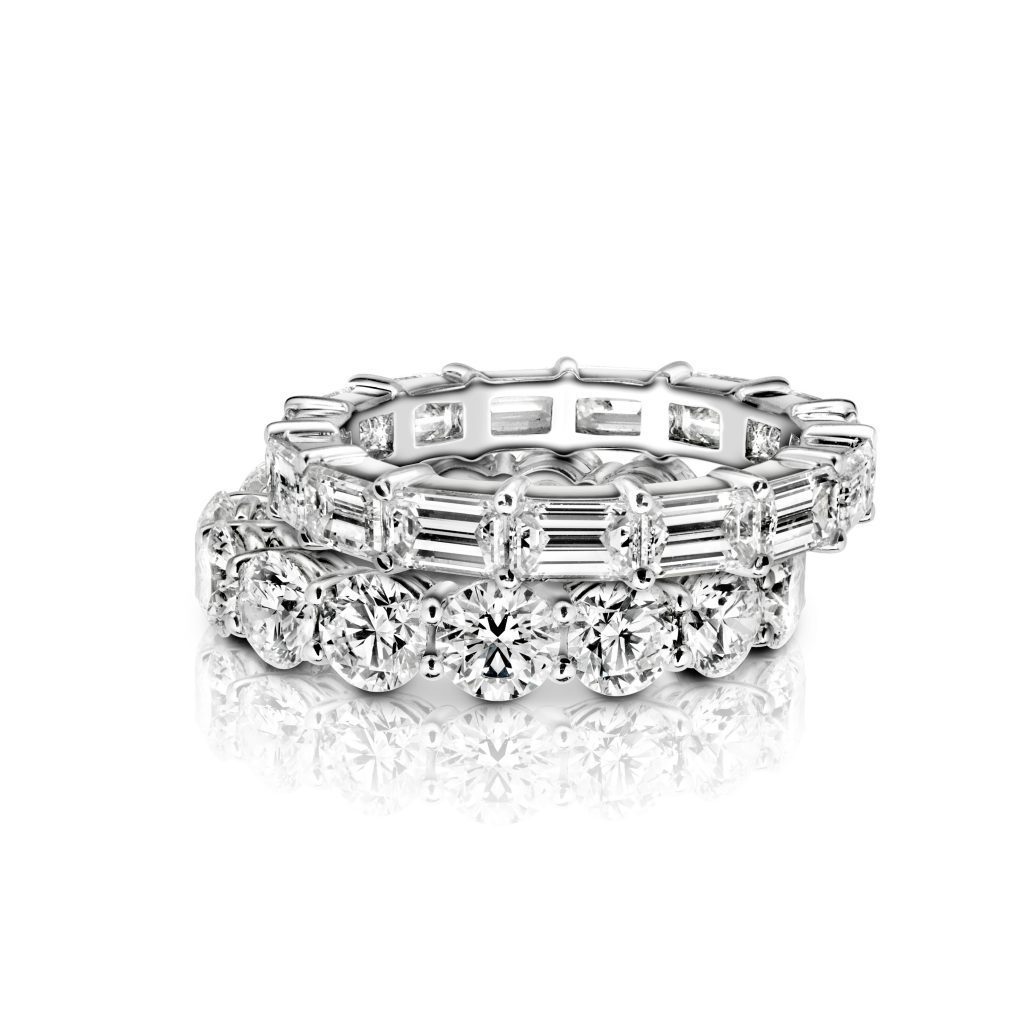 These rings have diamonds of the same size that go all the way around the band. The diamonds are embedded into the band itself, making it durable and more suited to everyday usage than some of the other rings and represents an everlasting love.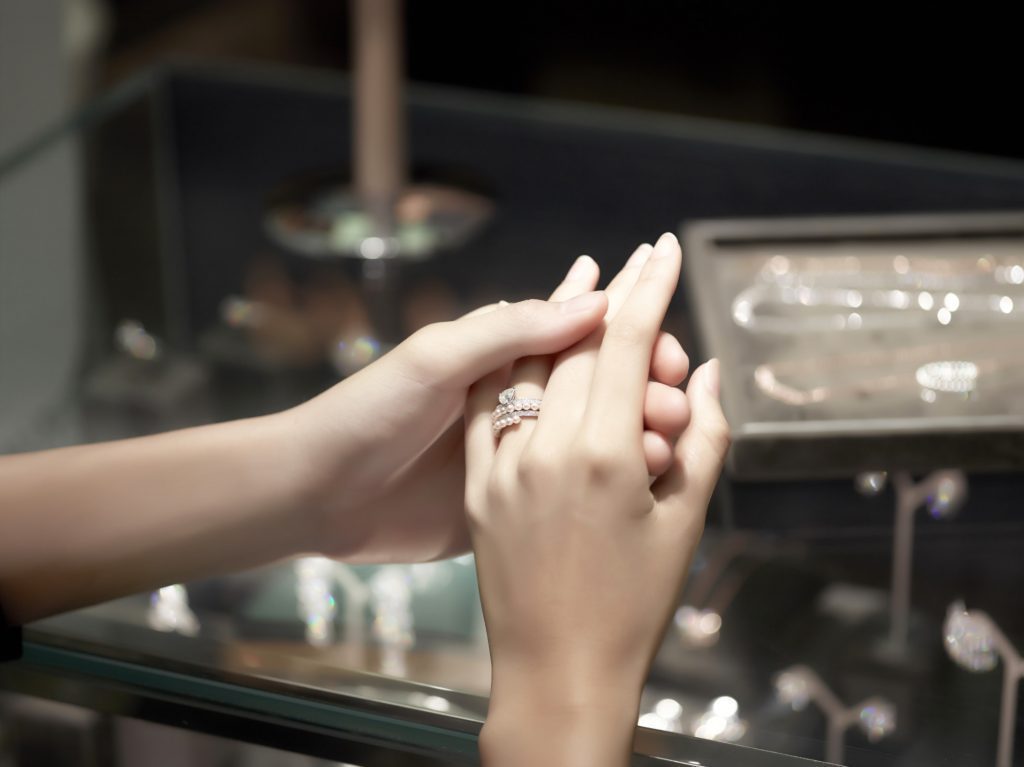 Tips for not wasting time when choosing the right ring for your wedding
Apart from knowing what to look for when choosing your engagement and wedding rings, another important factor that you need to consider from the get-go is the price. This is why we have the following recommendations for you and your loved one:
Decide on a budget for your engagement and wedding ring from the start
When choosing a custom engagement and wedding ring, let the groom choose the diamond first, then let the bride choose the setting afterwards. However, it is best if you choose a ready-made engagement and wedding ring that is to both you and your partner's liking, as this would allow you both to try on the rings before making a purchasing decision.
When choosing a diamond, prioritise factors that are most visible first, such as the shape, carat weight, colour, cutting and clarity respectively
Choose a ring that is ever so slightly tighter than you'd prefer. This makes sure that the ring will not annoyingly wriggle or shift while you wear it.
Your engagement and wedding ring will always be with you after you purchase it, symbolising the bond you share with your partner. So make sure that you choose a beautiful, high-quality ring, and a diamond bigger than you may have thought is most suitable for both of you.
"For the brides, two things that will stay with you forever after marriage is your engagement ring and the man you love."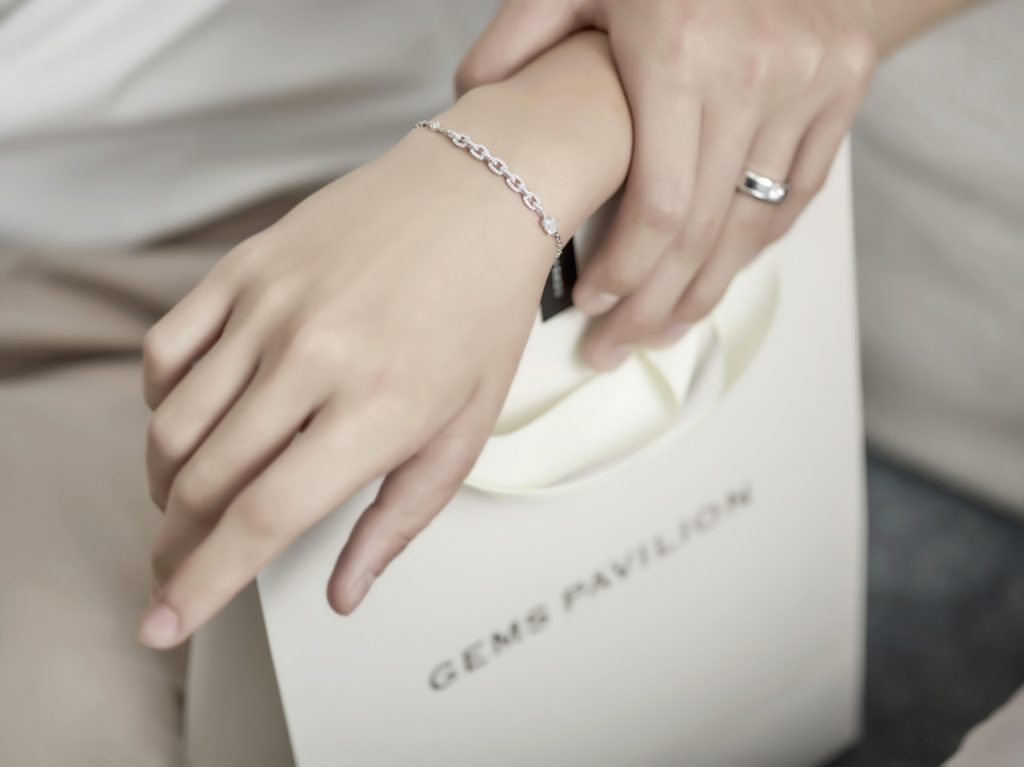 Gems Pavilion's price range for rings
We are ready to deliver in each ring, meticulous design and craftsmanship of quality regardless of price. This is so that our esteemed customers can choose and receive the best engagement and wedding rings of their particular desire.
Gems Pavilion's engagement rings
Engagement rings are mostly rings with a single diamond, with a starting price of approximately THB 50,000. However, with a higher budget, you will be able to choose a higher quality diamond that is more suitable for your ring.
Gems Pavilion's wedding rings
Wedding rings have a more classic and simple design. For this reason, the starting price is at approximately THB 15,000, depending on the material of the ring setting and diamond quality.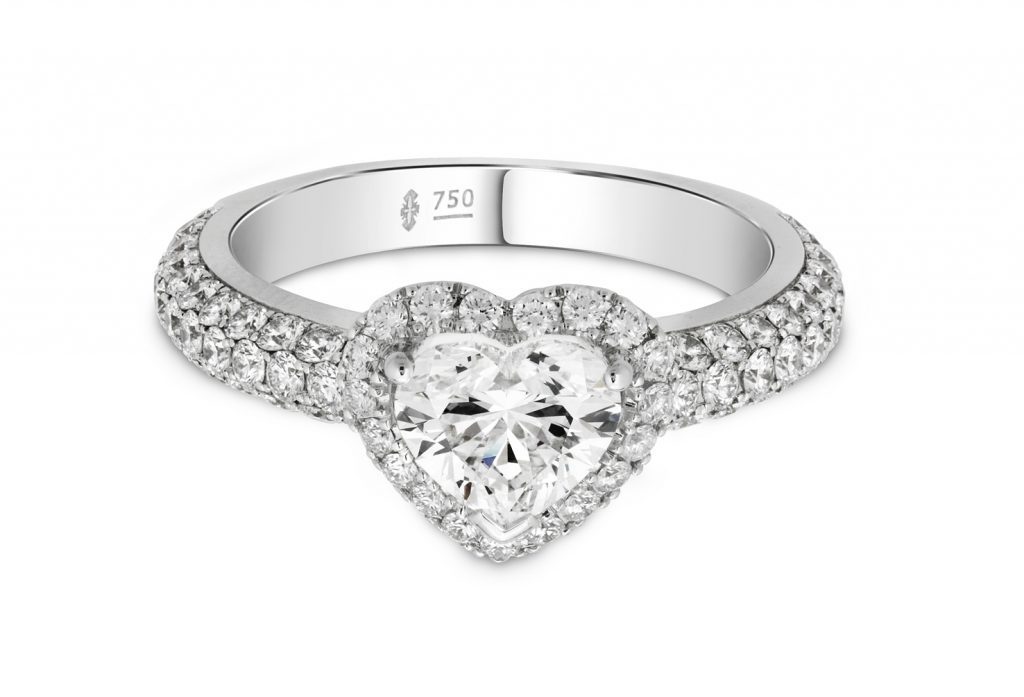 An Engagement and wedding ring for you by Gems Pavilion
At this point, many of you will already have an idea of what you should look for and consider when selecting an engagement and wedding ring.
If you are looking for a specialist with years of experience in jewelry, Gems Pavilion would be delighted to be your assistant in choosing the perfect engagement ring and wedding ring for you and your partner. You may only have one pair of engagement and wedding rings in your life, so it's important that you purchase your rings from an expert to avoid making the wrong decision and regretting it in the years to come.
We can help you create the engagement and wedding rings of your dreams, from the design sketching process through to the moment you wear it for the first time. There's no need to waste your time looking for the perfect ring yourself, let Gems Pavilion take care of your ring for you. To get in touch, you can contact our Jewelry Advisors here or visit us at one of our boutiques today.